Landscape architects are trained to analyze degraded environmental conditions such as brownfields, strip mines and abandoned urban industrial sites, and restore them to high functioning terrestrial and aquatic ecosystems. They are licensed to legally design and stamp construction documents used by contractors to build their ecological restoration plans. The plans are reviewed by permitting and inspection agencies to ensure they are built to municipal code. Landscape architects go beyond safe and efficient engineering to integrate restored environments into communities with trail systems, interpretive signs, viewing stations, and visitor centers. To manage the design process, landscape architects lead teams of consultants such as environmental scientists, technicians, and civil engineers.
*Important note about Ecological Design: Students who wish to obtain a license to design and construct ecological design plans should attend an accredited professional degree program such as landscape architecture or civil engineering. When choosing a design program for ecological design, be sure to ask if the degree will satisfy the educational requirements for licensure. Our program satisfies the educational requirements for licensure in landscape architecture in all 50 states.
Examples of Ecological Design
Image Source: Revitalization-org

Green Infrastructure

Green Infrastructure (vegetation, healthy soils, meadows, forests) replaces gray infrastructure (concrete pipes, swales, parking lots) as a means to clean our urban waterways and knit together wildlife habitat.

Image source: David Burke

Living Shorelines

Shorelines sometimes suffer from unnatural erosion due to wave action and flooding leading to degraded marine habitat. Living shorelines provide a temporary barrier away from the shore's edge to enable aquatic vegetation to flourish along the shore. Rich habitat for fish, waterfowl, pollinators, and other creatures is the result.

Image source: JJR-SmithGroup

Constructed Wetlands

Centuries of wetland loss due to agricultural and development practices has resulted in serious environmental degradation. Constructed wetlands can revive historic wetlands and begin the process of healing the land.

Image Source: Casanova Hernandez Architecten

Ecological Restoration

Restoring the ecological functions of land degraded by agricultural practices, mining, industrial despoilation, and urban expansion offers an essential tool for reversing damage to the earth's ecosystems. Landscape architects play a critical role in bringing ecologist and communities together to plan, design, and reconstruct natural systems.

Image Source: Lacy Cooke

Greenways

Greenways provide opportunities to protect riparian corridors, revive degraded floodplains, and bring needed attention and resources to neglected urban waterways. The shared pathways are used for outdoor recreation and alternative transportation while simultaneously improving habitat for wildlife.

Potential Employers
From full service landscape architecture firms, to environmental engineering firms, opportunities to practice ecological design as a landscape architect are widespread in the Chesapeake Bay area and throughout the world. Below are the names of some prominent firms in the area where many of our students and alumni have practiced.
(Click on the link to view the firm's design work)

| | | |
| --- | --- | --- |
| | | |
Download Ecological Design Brochure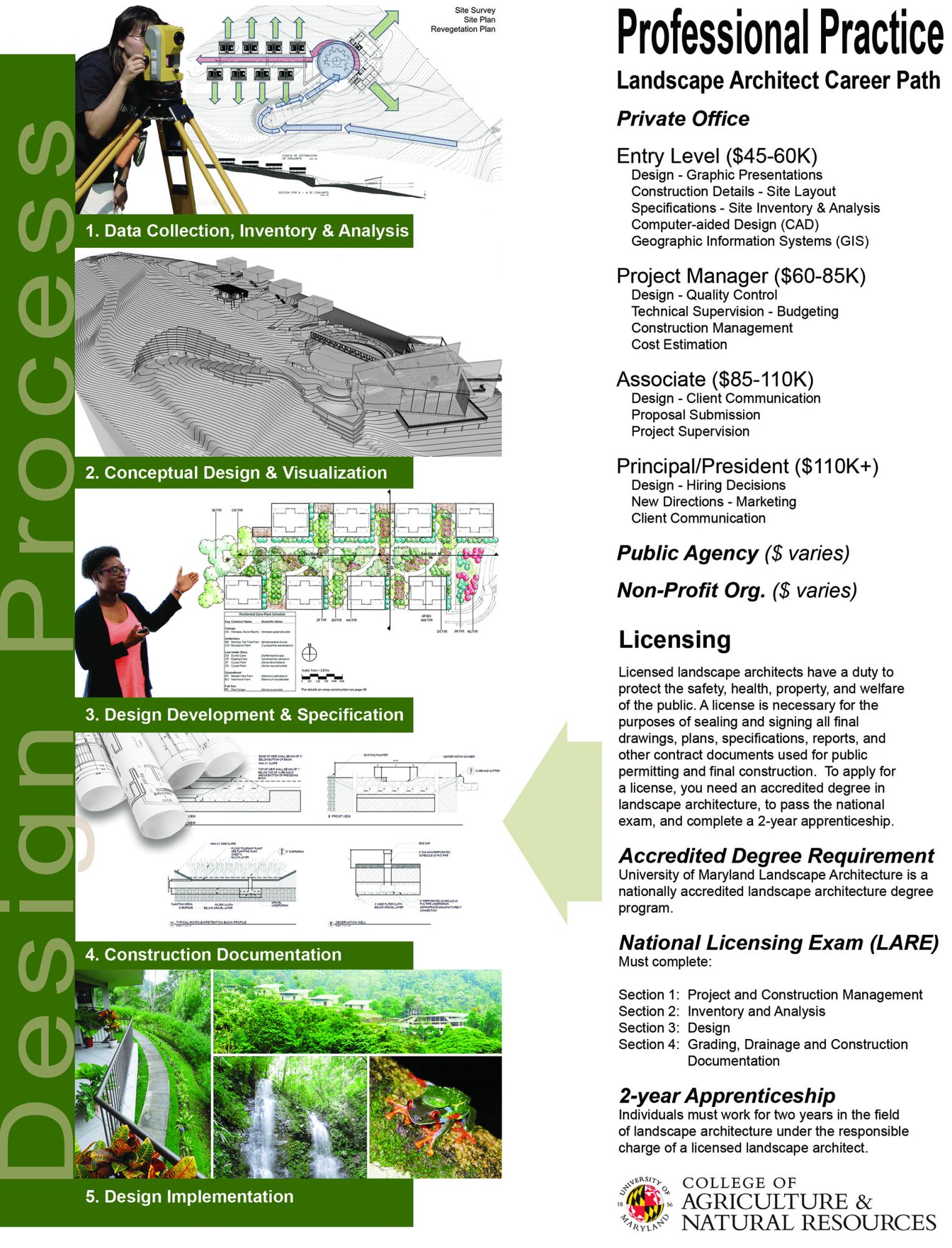 Go to:
Bachelor's Degree (BLA)Master's Degree (MLA)