Raena Nola, 2nd year BLA student, has been awarded $2,000 for AY16/17 from the Robert and Shirley Mangum Memorial Scholarship.  Raena was presented with this award on June 5 at the Montgomery County Farm Bureau annual picnic event.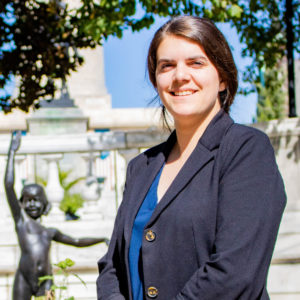 What is the Robert and Shirley Mangum Memorial Scholarship?
"Robert & Shirley Mangum Memorial Scholarship, which is administered through the Montgomery County Farm Bureau.  The Montgomery County Farm Bureau and the Mangum Family established the scholarship fund in 2004 to honor Montgomery County business owners, Robert and Shirley Mangum for their dedicated service to the ornamental horticulture, interior landscape, floristry, and greenhouse growing industries, to the communities in which they lived and worked, and to horticultural/agricultural education.  The scholarship, one award in the amount of two thousand dollars ($2000), is given to an undergraduate or graduate student majoring in horticulture, agriculture, plant science or a related field in an accredited, U.S. two-year or four-year educational institution. The Scholarship is designed to assist students who have demonstrated character, scholarship & talent and who are interested in pursuing an education and eventual career in the Maryland agricultural or plant related industries.   
Background
 
Mr. Mangum was involved with Montgomery County Farm Bureau for many years and served on the Board of Directors. Mr. Mangum was an entrepreneur and pioneer in the business of interior landscaping and ornamental horticulture. He began his career in the 1950's when he and his wife, Shirley, purchased Bell Flowers in Silver Spring, Maryland.  He expanded his floral operations and in the late 1970s and became one of the first in the country to successfully develop an interior landscape business, which grew to several hundred employees serving thousands of clients including shopping malls, office buildings and fine hotels in the Washington DC metropolitan area.  In the mid-1980s, the Mangums started Bell Nursery, a greenhouse and ornamental crop growing operation based in Burtonsville, MD. Mr. Mangum's businesses, Bell Flowers, Bell Nursery and Premier Plantscapes, which today continue under the stewardship of the Mangum family, are well-known for dedication to quality, innovative plant products and a pioneering business practice that serves as a model for ornamental crop growers and other industry professionals around the country."
--http://www.robertmangumscholarship.com/downloads/scholarshipapplication.pdf